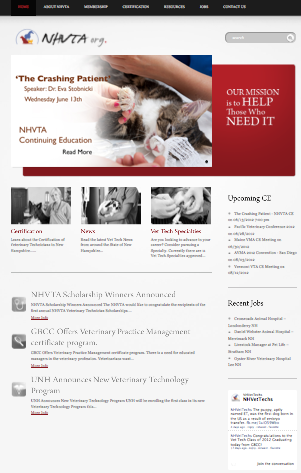 GREENLAND, N.H., June 6, 2012 – The New Hampshire Veterinary Technician Association (NHVTA) this week launched a new website engineered by Danconia Media, a leading New England web design and marketing firm.
The site – located at www.nhvta.org – features information about NHTVA's mission, how to become a member, its certifications, open vet tech jobs and other resources for veterinary professionals. Danconia Media's web development team gave the site a modern and clean look and feel to appeal to the organization's wide-ranging demographic.
Visitors can submit job openings and upcoming events and continuing education opportunities using the site. All approved posts will be promoted on NHVTA's Twitter and Facebook pages.
Danconia Media built the site using WordPress, a popular content management platform that's known for its scalability and ease of use. Since WordPress is open-source, it is free to use and highly customizable. At the same time, the platform has the same capabilities as proprietary systems that can cost tens of thousands of dollars per year in licensing alone.
With WordPress, NHVTA will be able to keep the site updated without relying on a third-party agency. The money the organization will save can be put to good use in helping its members advance in their careers.
The NHVTA offers continuing education, seminars and other benefits to its members. The organization certifies veterinary technicians throughout the state. Certification requires a degree from a veterinary technology institution accredited by the American Veterinary Medical Association (AVMA).
About Danconia Media
Danconia Media is a full-service web design and marketing firm that takes a unique approach to both online and traditional campaigns. Specialties include web development, search engine optimization (SEO), search engine marketing (SEM), Internet marketing, social media marketing, online reputation management, graphic design, logo design, corporate business card design, trade show display design, email marketing and copywriting. For more information, visit www.danconia.com.
###