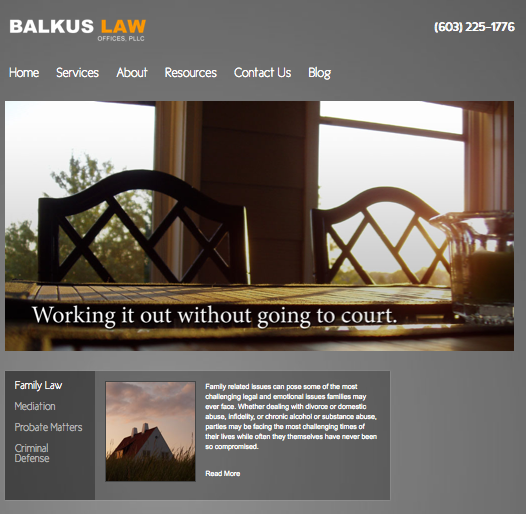 CONCORD, N.H., July 11, 2012 – Balkus Law Offices, a New Hampshire firm that offers a wide range of legal services, this week launched a new website engineered by leading design and marketing company Danconia Media.
The website – located at www.balkuslawoffices.com – features a modern, minimalist design. Using the site, visitors can learn about Balkus's family law, probate, criminal defense and mediation services. The site makes it easy for visitors to contact the law firm from all of the internal pages.
Danconia Media also integrated Balkus's existing blog, which uses Google's Blogger platform, with the site.
The site was built using a best-of-breed content management system (CMS) that Balkus's employees can now leverage to maintain the web presence in-house. The CMS is easy for virtually anyone to use to add, remove and modify content with minimal training. Since the CMS is open-source, it is free to use and highly customizable.
Balkus Law Offices was founded by Attorney Jennifer Moore Balkus, who is licensed to practice before all New Hampshire state courts and the Granite State's United States District Court. Balkus, who was admitted to the New Hampshire Bar in 1997, is a member of New Hampshire Conflict Resolution Association and belongs to the New Hampshire Humane Society's board of directors.
Balkus Law is located at 17 South Street in Concord. For more information, visit www.balkuslawoffices.com or call (603) 225-1776.
About Danconia Media
Danconia Media is a full-service web design and marketing firm that takes a unique approach to both online and traditional campaigns. Specialties include web development, search engine optimization (SEO), search engine marketing (SEM), Internet marketing, social media marketing, online reputation management, graphic design, logo design, corporate business card design, trade show display design, email marketing and copywriting. For more information, visit www.danconia.com.
###