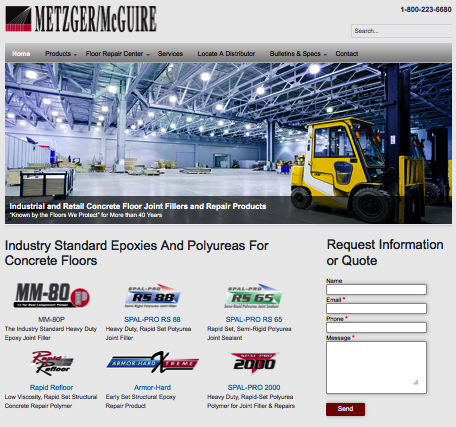 BOW, N.H., July 10, 2012 – Metzger/McGuire, a supplier of epoxy and polyurea industrial products, this week launched a completely overhauled web presence engineered by New England web design firm Danconia Media.
The site – located at www.metzgermcguire.com – features detailed information about Metzger/McGuire's suite of epoxies, polyureas, colorfast, industrial floor and repair products. Using the site, visitors can easily find local distributors and request pricing on products. Danconia Media's web team gave the site an industrial design to appeal to Metzger/McGuire's clientele.
One of the site's innovative features is an interactive Flash map that visitors can use to find distributors closest to them. All they have to do is click on their home state on the map to view a list of distributors close to them.
The site was built with a robust content management system (CMS) that Metzger/McGuire's staffers can use to add, remove and modify its content in-house. Since the CMS is open-source, it is free to use and highly customizable. Danconia Media's web developers chose the CMS because of its best-of-breed ease of use and scalability.
About Danconia Media
Danconia Media is a full-service web design and marketing firm that takes a unique approach to both online and traditional campaigns. Specialties include web development, search engine optimization (SEO), search engine marketing (SEM), Internet marketing, social media marketing, online reputation management, graphic design, logo design, corporate business card design, trade show display design, email marketing and copywriting. For more information, visit www.danconia.com.
###