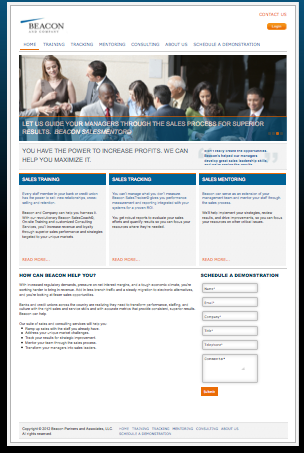 HILTON HEAD, S.C., Aug. 23, 2012 – Beacon and Company, which specializes in sales management, training and coaching for the financial services industry, this week launched a completely redesigned website.
The site – located at www.beaconandcompany.com – features information about Beacon' training, tracking and mentoring products. Beacon has a unique set of tools, including SalesCoach©, SalesTracker© and SalesMentor©. The products are designed to streamline the entire sales process. Visitors can request demonstrations using the site.
The site also features information about Beacon's consulting services. Beacon's consultants assist businesses with customized sales processes, coaching, leadership, cultural change, leveraging inter-divisional synergies and sales/service challenges.
Beacon's new site features a content management system (CMS) that the company can now use to add, remove and modify its content in-house. The site was developed by New England design and marketing firm Danconia Media.
Since the site's CMS is open-source, it lacks the exorbitant fees that proprietary systems carry. The platform has better functionality than commercial solutions that can cost tens of thousands of dollars per year in licensing alone.
About Beacon and Company
Founded in 2003, Beacon and Company specializes in sales management, training and coaching for the financial services industry. Beacon's team of banking and marketing professionals have been recognized both nationally and internationally for assisting clients to improve profitability and market share by maximizing existing resources. Beacon also helps organizations facilitate cultural change and achieve continuous improvement in sales and service delivery.
About Danconia Media
Danconia Media is a full-service web design and marketing firm that takes a unique approach to both online and traditional campaigns. Specialties include web development, search engine optimization (SEO), search engine marketing (SEM), Internet marketing, social media marketing, online reputation management, graphic design, logo design, corporate business card design, trade show display design, email marketing and copywriting. For more information, visit www.danconia.com.
###