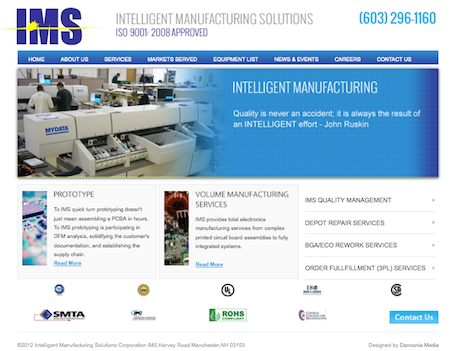 MANCHESTER, N.H., Aug. 28, 2012 – Intelligent Manufacturing Solutions (IMS), a leading electronics contract manufacturing company, has launched a website completely overhauled by New England design and marketing firm Danconia Media.
The site – located at www.imscorp-us.com – features content detailing IMS's history, services, primary markets, equipment, job openings, latest news and events. IMS offers an array of contract services, including engineering support, prototyping, volume manufacturing, depot repair, BGO/ECO reworking, testing and order fulfillment.
Danconia Media's web team engineered the site using a highly robust, yet user-friendly, content management system (CMS) that IMS's staffers can now use to maintain it in-house. The CMS can be leveraged by virtually anyone – even those with zero web editing experience – to add, remove and modify the site's content. As part of the web design package, IMS will receive CMS training.
Since the CMS is open-source, it is free to use and very customizable. Even though the CMS is free, it has better functionality than many platforms that can cost tens of thousands of dollars annually in licensing fees alone. The CMS has a massive development community, so IMS is never tied down to any one design firm.
Founded in 2005, IMS has a 25,000 square-foot production facility that houses an assortment of cutting-edge equipment for the electronic assembly market. The company is ISO 90001: 2008 approved. Its facility is located at 645 Harvey Road in Manchester.
About Danconia Media
Danconia Media is a full-service web design and marketing firm that takes a unique approach to both online and traditional campaigns. Specialties include web development, search engine optimization (SEO), search engine marketing (SEM), Internet marketing, social media marketing, online reputation management, graphic design, logo design, corporate business card design, trade show display design, email marketing and copywriting. For more information, visit www.danconia.com.
###