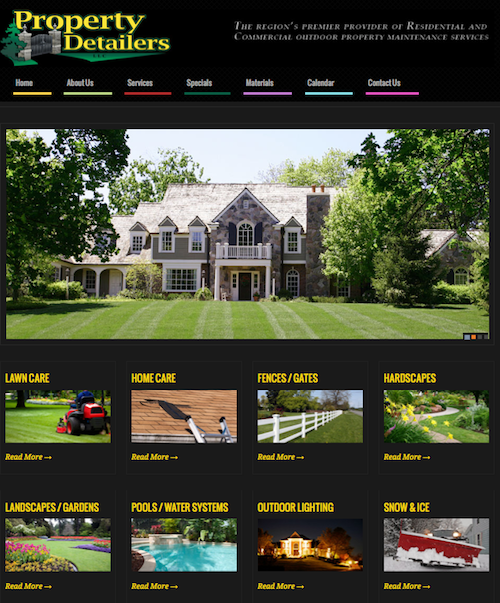 NEW BOSTON, N.H., Aug. 2, 2012 – Property Detailers LLC, a premier provider of residential and commercial outdoor property maintenance, this week launched a website engineered by New England design and marketing firm Danconia Media.
The site – located at www.propertydetailersllc.com – features content detailing the company's many services, including lawn care, home care, fences/gates, hardscapes, pool maintenance, outdoor lighting and snow/ice removal. Using the site, visitors can easily contact Property Detailers from any page with a brief form.
Danconia Media built the site using WordPress, a popular content management platform that's known for its scalability and ease of use. Since WordPress is open-source, it is free and highly customizable. The platform has the same capabilities as proprietary systems that can cost tens of thousands of dollars per year in licensing alone.
The content management system (CMS) empowers Property Detailers to maintain the site in-house rather than relying on a third-party agency for updates. The platform makes it easy for virtually anyone – even those with zero web editing experience – to add, remove and modify content within moments. As part of the web design package, Property Detailers will receive WordPress training.
Property Detailers was born from Perkins Cove Real Estate, a Maine company founded in 1998. Perkins Cove formed an internal maintenance group intended to solely service properties it owned. Last year, the company decided to open up its services to the public.
About Danconia Media
Danconia Media is a full-service web design and marketing firm that takes a unique approach to both online and traditional campaigns. Specialties include web development, search engine optimization (SEO), search engine marketing (SEM), Internet marketing, social media marketing, online reputation management, graphic design, logo design, corporate business card design, trade show display design, email marketing and copywriting. For more information, visit www.danconia.com.
###